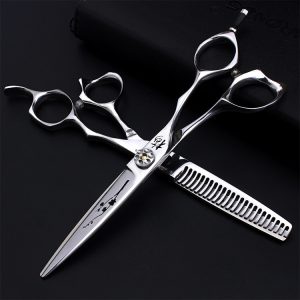 Product Details
Product Name:
Barber's Thin Suit Hair Gallery Scissors
Material:
Stain steel
Usage:
Haircut
Shape:
Straight head
Color:
sliver
Logo:
Customized logo
Packing:
100pcs/ctn or 120pcs/ctn
Place of origin:
Zhejiang,China(Mainland)
Feature:
Convenience sharp Eco -friendly
Round knife head design, specially for children grinding, baby use to prevent chaotic stabbing. Stainless steel, high hardness, corrosion resistance, good sharpness. Good steel greatly improves the service life of scissors, and good grinding technology can improve the sharpness of scissors. Sharp blade, hand grinding blade, blade line uniform, smooth so that sharp scissors do not slip hair. Sharp teeth, sharp teeth, small teeth clearly visible, 27 teeth.

Professional haircut, durable, meticulous workmanship, good sharpness, especially using ice calcination treatment. Suitable for Oriental body shape and feel. Special stainless steel imported from Japan is manufactured with moderate length, which is convenient for overall and partial moulding and trimming.

Scissors are not surprising in appearance, but they are widely used. When tools such as knives and shovels are not able to exert force, shears can be easily solved. Scissors have become an indispensable tool in people's daily production and life. Tailors should cut cloth and thread, village women should cut paper and metal skins, herdsmen should cut wool, gardeners should cut branches, bronzers should cut scissors.