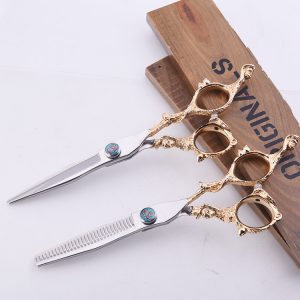 Product Details
Product Name:
Gold-plated scissors
Material:
Stain steel
Usage:
Hair
Shape:
Straight head
Color:
True color
Logo:
Customized logo
Packing:
100pcs/ctn or 120pcs/ctn
Place of origin:
Zhejiang,China(Mainland)
Feature:
Convenience sharp Eco -friendly
Special scissors for hairdressing Household scissors Durable and meticulous workmanship Sharpness is good Special use of ice calcination Special steel production Comfortable length and comfortable Handle and partial hair cutting.

Scissors maintenance:
1. Since the product has been inspected strictly before leaving the factory, the turnbuckle has been adjusted to the best position, please do not move it easily.
2. Please don't cut it easily (ie cut the air)
3. High-quality steel, high sharpness, please pay attention to safety during use, be careful not to touch the bottom layer of skin.
4. Please clean the residue on the blade after use. If necessary, apply a small amount of lubricant to the inside of the blade and the screw.
5. Hairdressing scissors must be carefully kept, gently handled, do not throw away litter, which will damage the tightness of the scissors.
6. Do not use to cut metal objects, so as not to damage the blade. It can't be used just like ordinary scissors, otherwise it will shorten the service life. This product is only used for hair reduction.