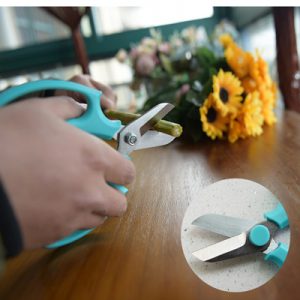 Product Details
Product Name:
Fresh Garden Tool Scissors
Material:
High carbon steel stainless steel + handle nylon
Usage:
Pruning,garden
Shape:
Big head
Color:
Customized color
Logo:
Customized logo
Packing:
100pcs/ctn or 120pcs/ctn
Place of origin:
Zhejiang,China(Mainland)
Feature:
Convenience sharp Eco -friendly
High quality material, high quality material, high hardness, sharp edge, wear-resistant, easy to trim. Flexible design, press the adjusting button, adjust the trimming height at any time according to the use requirements. Rubber handle, anti-skid handle, good wear resistance, comfortable grip, suitable for long-term operation. Strong screw, using screw fixing process, can be used for a long time without falling off, and has strong practicability.

Durable, quality assurance. ABS plastic handle, handle material selection ABS plastic, light and comfortable design, environmental protection tasteless. Stainless steel scissors head, scissors head selection of manganese steel stainless steel material, longer use time, and no rust. Wide knife head design, we choose wide knife head design, to avoid injuring the elderly and children by mistake.

Scissors are not surprising in appearance, but they are widely used. When tools such as knives and shovels are not able to exert force, shears can be easily solved. Scissors have become an indispensable tool in people's daily production and life. Tailors should cut cloth and thread, village women should cut paper and metal skins, herdsmen should cut wool, gardeners should cut branches, bronzers should cut scissors.