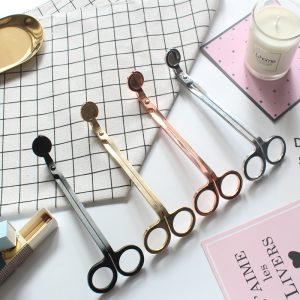 Product Details
Product Name:
Aromatherapy candle scissors
Material:
Stain steel
Usage:
Household
Shape:
Round head
Color:
True color
Logo:
Customized logo
Packing:
100pcs/ctn or 120pcs/ctn
Place of origin:
Zhejiang,China(Mainland)
Feature:
Convenience sharp Eco -friendly
The stainless steel surface is gold-plated, the color is gorgeous, the shape is exquisite, the hand-feeling light and unique gold surface is beautiful, elegant and luxurious. It is an interesting thing to choose the daily objects, to interpret the time and space, the shape of the device and the object, the air sense between the objects and the objects, to match, to select and compare. Each tableware embodies the understanding of the craftsman to the beauty. Interpretation
At this moment, we only need a devout heart to appreciate the beauty of the color, the exquisite craftsmanship.
This pair of scissors is made of brass alloy. Lightweight and easy to cut. Its asymmetrical shape is unique. It is especially suitable for fashion people who are at the forefront of the trend. Its Nordic minimalist design style fits the current low-key lifestyle concept. The combination of gold and black organic is very atmospheric, whether it is placed in the office or home decoration is very stylish, even if not used, as a decoration is also an ornament.