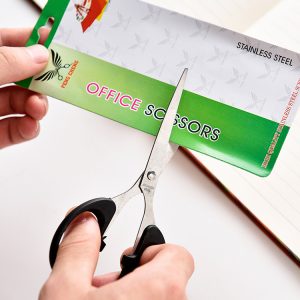 Product Details
Product Name:
Creative office scissors
Material:
Stain steel
Usage:
office
Shape:
Straight head
Color:
Customized color
Logo:
Customized logo
Packing:
100pcs/ctn or 120pcs/ctn
Place of origin:
Zhejiang,China(Mainland)
Feature:
Convenience sharp Eco -friendly
Stainless steel multi-functional home office scissors, plastic handle + stainless steel knife edge, firm and sharp, very useful. Widening handle design, reducing pressure grip comfort, ergonomic design, fit hand type, long-term fatigue is not easy. High-quality steel, scissors faster and sharper, scissors handle can be opened to the maximum extent, easy to cut, durable, home, office necessary, good quality. Used for cutting cotton cloth, nylon, flannel, paper and other materials, cut edges flat. It conforms to ergonomic principle and does not feel tired for a long time. Shear thickness is higher than the general stationery scissors in the market, so it is not easy to dislocate when cutting paper.

Modern household scissors are made of ferrovanadium material. The cutting thickness can be several times that of the existing ordinary scissors. Because of the good knife edge bonding, the cutting times at the tip of the scissors can be more than 5000 times. Vanadium is an important alloy additive in iron and steel industry. Vanadium can improve the strength, toughness, ductility and heat resistance of steel. The use of such scissors in general households can avoid the grinding of scissors.